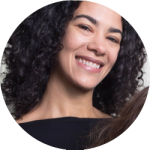 Like a chat over tea with your best friend who researches everything
What if I was doing it wrong? In my pre-baby life, I was very good at my job. I managed high-profile news and book projects. I won awards. I knew what I was doing. I liked that feeling. Having a baby threw me for a serious loop, from the very first moment. That's when my lovely notion of a natural birth in a tub of water with a gentle but fierce midwife gave way to a "baby's heart can't handle the contractions" C-section in the hospital. At each stage since then — infant, toddler, preschooler, kindergartner — various parenting challenges have thrown me for a loop. I sought and found the evidence-based answers I needed. And it was like finding needles in a haystack. Well, you're not going to waste months of your life digging through all that like I did. Not if I can help it.
I'm Tracy Cutchlow, a mom, a recovering perfectionist, and an award-winning journalist. This is the book I wanted as a new parent: the best information, in the least time. Zero to Five is now an international bestseller. I hope you like it, too.
I want this!
(instant download)
Also available in hardcover, paperback, and audiobook
---
I've got your back
The amount of parenting advice out there is overwhelming. You know because you've read it all. Same here. I'll point you in the right directions. There are specific things — backed by research — that make being a parent easier, lighter, less unintentionally harming, more connected. These don't always come naturally to us because of the way we were raised and the culture we live in. But when they're laid out in a friendly way, with examples, we can do them. I've done them. You can do them.
I won't leave you hanging with "Sign language is great for babies; here are a few signs." I say, "Here's how researchers teach babies sign language. And here's my experience with it." I won't say, "Stay calm and your child will be more calm," but "Here's the best three-part framework I've found for staying calm."
You want to give your child the best possible start. I know exactly how that feels. This book is for you.