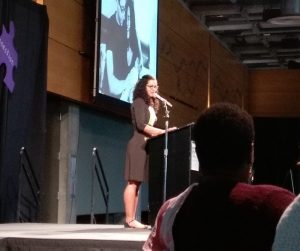 Ready? E-mail me at tracy@zerotofive.net about giving a keynote, talk, or workshop.
Tantrums and Yelling and Defiance, Oh My
Typical discipline techniques — like time-outs, bribes, and counting to 3 — don't work for the long-term. Learn a perspective-shifting method you can use, in any situation, to avoid power struggles, build your child's self-confidence, and stay calm. We'll talk about a different way to see what's behind your child's behavior, including the real reason situations escalate. We'll practice three simple steps for responding.
Audience: Parents, teachers, and other professionals who have or work with kids age 1 through elementary school.
Timing: Minimum 45 minute talk; maximum 4-hour interactive workshop
Why Some Kids Try Harder and Some Kids Give Up: 3 Ways to Foster a Growth Mindset
What if changing one thing about the way we talk to our children (and even ourselves) could increase perseverance, motivation, and resilience?
The research around growth mindsets and fixed mindsets is fascinating. I'll talk about how mindsets are created (even starting at age 1), how we can start our kids off with a growth mindset, and how we can change fixed mindsets.
Audience: Parents, teachers, childcare providers, and any others who have kids or work with kids age 1 through elementary school.
Spanish: Can co-present talk with Spanish speaker (I have translation)
Timing: 45 minutes + optional Q&A
3 Brain-Boosting Activities You Can Do With Your Infant
What do you do with an infant, once you've run out of songs and sweet little games? I'll talk about three simple ways of interacting that increase bonding, boost vocabulary, create a stimulating environment — and make new parents' lives a little bit easier.
Audience: Expecting couples, new parents of infants through 6 months
Timing: 30 minutes + optional Q&A
Equipment preferences
Wireless headset mic (if not available, wireless clip-on mic)
Wireless remote presenter (to advance slides)
Projector & screen (I usually bring my laptop; happy to use yours if you prefer)
Setup preferences
Space to walk back and forth a bit
Table to display or sell copies of Zero to Five. I'm happy to stay to sign books.
If your event requires registration, gathering attendee email addresses, I'd like to send related handouts afterward. (If you're planning to send a follow-up email as well, let's coordinate to combine them.)
Promotion
Need a template for a flyer? I have one you (or I) can adjust.
I'll make at least two announcements via social media, as well as e-mail any relevant groups I belong to.
Keep me posted on registration numbers so we can work together to hit your target.
Who's heard these talks so far?
Expecting couples and new parents at baby expos in Seattle and Portland
Elkhorn, Wisconsin, School District's K-5 teachers (in-service day)
Social workers, home visitors, childcare trainers, and low-income families in South Seattle — with lunch, childcare, and Spanish translation provided by Catholic Community Services
Parents of two cooperative preschools in Shoreline
Kirkland Kiwanis Club civic and community-service leaders
Parents, parent educators, and supporters of Bellevue College's Parent Advisory Committee (fundraiser)
Let's talk about your talk.
tracy@zerotofive.net